Grab Your SEMrush Free Trial (Pro Account)
If you're searching for a SEMrush free trial , then you have come to the right place. Go here to get your SEMrush 7-day pro account for free.
Use this EXCLUSIVE Link to get a free trial.
What Is SEMrush, and what it does?
SEMrush is one of the best all-in-one toolkits for digital marketing professionals. SEMrush tool is top-rated for SEO that specializes in competitor analysis, keyword research, and Google Ad campaign optimization.
SEMrush is best for competitor's research. It shows you the competitors top ranking keywords, backlinks, SEO website score, and more.
With this SEMrush keyword research tool, you can easily find out the best profitable keywords for any niche.
SEMrush is not only famous for competition keyword research, but it also renowned for organic research, Keyword positions, backlinks, and advertising research.
SEMrush is one of the must-use tools by SEO and Blogging experts.
Come on, let's jump into the detailed SEMrush review to give you more ideas about how to spy on your competitor's website and find the most profitable and high traffic keywords.
In-depth SEMrush review 2023
Using SEMrush for competitors research:
The competitor's research feature is one of the best features of the SEMrush SEO tool. If you wanted to be ahead of your competitors, then you can confidently go for the SEMrush tool. It helps you to find out the strategies of your competitors.
If you are ranking for multiple keywords and generating traffic on Google, then your competitors already started spy on your website. Now its time for you to spy on your competitor's site and know their strategies and high performing keywords.
Here you can see the domain overview of ebay.com. It shows the organic search traffic, paid search traffic, backlinks count, and also it gives you detailed information of keywords they use.
In this way, you can put the competitor URL in the SEMrush SEO tool to find out the top-performing keywords, traffic, and top-performing content.
Keyword Magic Tool:
The Keyword Magic tool from SEMrush is another great feature to find out the keywords that will generate massive traffic. This keyword magic tool gives you a list of keywords that contain your seed keywords. And also, you can choose the keyword match type like a broad match, phrase match, exact match, and related keywords.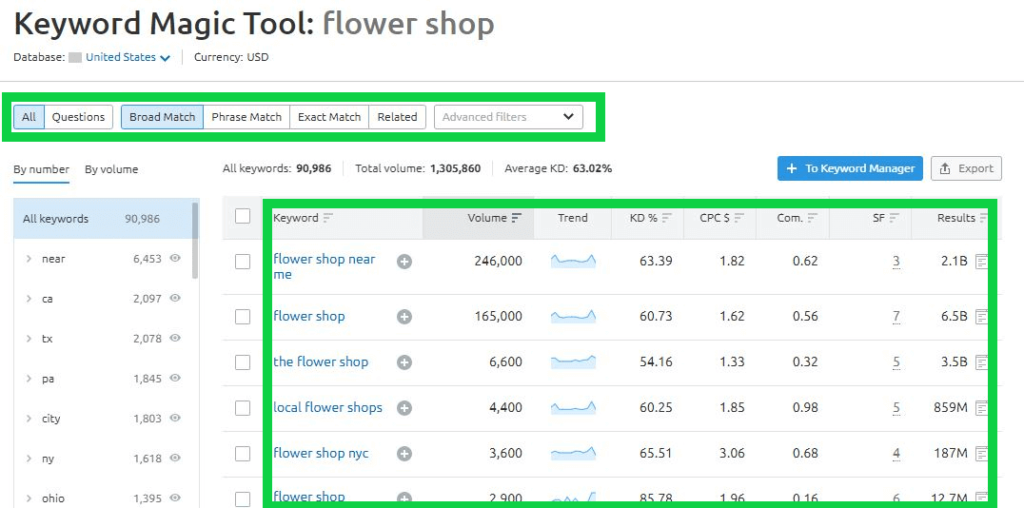 Google loves the "Question" type of content. Inserting question keywords into your website content helps you to get more traffic to your site. Also, there is a chance to get traffic from a featured snippet.
How to find question type keywords? It's super-duper comfortable with the use of the SEMrush tool!
SEMrush has a fantastic tool to find question keywords. SignUp to SEMrush free trial and goto Keyword magic tool and enter the keyword.
You can list out the question keywords from here. It will help you to give lots of content ideas.
By providing useful answers to complicated questions, you can position yourself on search engines, and also you can build the audience's trust.
Here are some benefits of targeting question keywords in your content:
Targeting question keywords help you to get featured snippet on Google.
They help you to rank quickly.
You can get more convert traffic.
There are many tools available in the market to find question type keywords like Quora, AnswerthePublic, etc. But SEMrush is best of all. It gives search metrics, keyword difficulty (KD), and more.
Tip: Find less keyword difficulty (below 50). It is easy to rank on Google, and you can quickly gain traffic from those keywords.
SEMrush Keyword Research:
Undoubtedly SEMrush is one of the best keyword research tools in the SEO community. Using SEMrush, you can find the best keyword and unused keywords for your blog or website.
If you wanted to increase your overall website search traffic, then you need to find out the best performing keywords for your website. SEmrush helps you to find top-performing and profitable keywords for your blog.
Just put a keyword related to your niche, and SEMrush shows you its exact volume, keyword difficulty, CPC, trends, keywords variation, questions, and related keywords.
Using these details, you can get a clear idea to improve your search rankings and traffic by implementing these keywords in your website content.
Find top-performing competitors keywords:
Using SEMrush, you can also find your competitor's best performing keywords. Now you know which keywords bring more traffic to a competitor's website. You can use those keywords in your future content.
It is a skyrocket technique to take your website traffic to the next level.
Give a try to SEMrush free trial from here.
SEMrush Backlink Checker:
Backlinks are an essential method in SEO. Backlinks play a significant role in SEO. If you need to get more organic traffic and top rankings, then you should focus on increasing your backlinks.
If you are starting a new blog in a unique niche and you are worried about the backlinks. No worries!
SEMrush has a backlink checker tool where you can check your competitor's website for their backlinks source.
Now, you can reach out to them and ask them to link your website too. This link building strategy gets your more backlinks much quickly.
SEMrush also helps you to setup uncover link building opportunities.
In this backlink analysis report, you can see the "Referring Domains" tab and click on it. It will show you a list of all the domains that are linking to your competitor's website.
Now you have to email outreach to these blogs by providing them value. It is one of the best methods to increase your backlinks.
By using the SEMrush pro tool, you can able to find all the link building opportunities from the competitors.
Click here to try SEMrush Pro for free!
Position Tracking:
Position tracking helps you to track your keyword ranking positions.
SEMrush position tracking will show you how many keywords you are currently ranking for. It tracks all the keywords that drive traffic to your website, and also it shows the ranking positions and searches volume metrics.
Domain Comparison:
Domain comparison is comparing your website with your competitor's site. It gives you a better idea of where you are lagging and where to improve. You can compare four competitor's websites at a time.
SEMrush Brand Monitoring:
With this SEMrush brand monitoring tool, you can now easily track your online reputation. You will automatically notify for new mentions on Web or Social media.
Using the SEMrush monitoring tool, you can manage your online reputation. You will get notified if any online mentions or customer reviews happen on Web or social media. You can also identify communities where people talk about you and your product or services.
SEMrush PPC Keyword tool:
THE SEMrush PPC keyword tool helps you to improve the results of your PPC campaign efforts. You can set up the keywords for your PPC campaign in the Adgroup level. Also, you can set up negative keywords.
Using SEMrush, you can uncover your competitor's PPC strategies and also monitor your competitor's ad copies and their landing pages.
SEMrush Pricing:
Grab your product with HUGE discount
SEMrush offers three pricing options:
PRO starts at $99.95 per month
Guru starts at $199.95 per month
Business starts at $399.95
SEMrush Pro Account Features:
Results per the report: 10,000
Reports per day: 3,000
Projects: 5
Keywords to track: 500
Pages to crawl: 100,000
SEMrush Guru Account Features:
Results per the report: 30,000
Reports per day: 5,000
Projects: 50
Keywords to track: 1500
Pages to crawl: 300,000
SEMrush Business Account Features:
Results per the report: 50,000
Reports per day: 10,000
Projects: Unlimited
Keywords to track: 6000
Pages to crawl: 12,00,000
Click here to get a free account of SEMrush Pro
Discover & Analyse Your competitors:
Discover:
Using SEMrush, you can easily find your organic competitors. Just pop your domain into the organic research search bar. It will show you the exact domain which is competing for the same keywords in the same niche.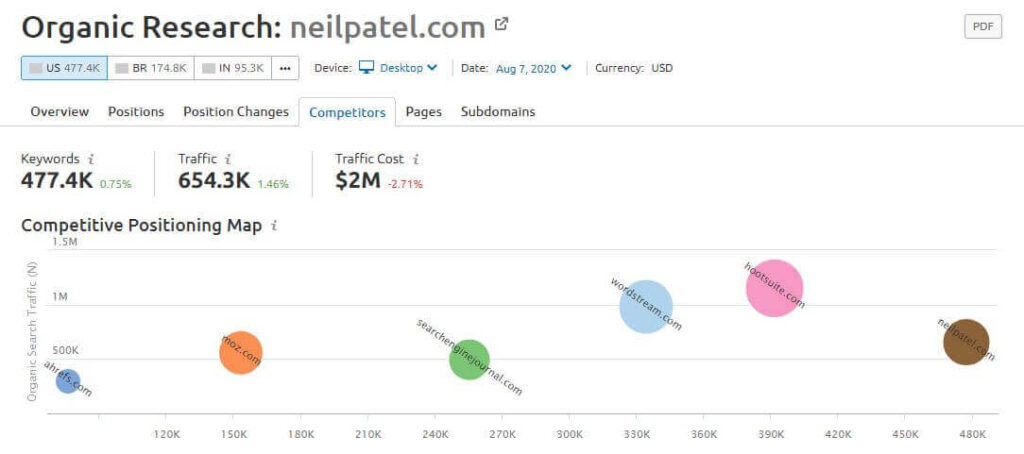 Activate your free trial to discover your competitors.
Analysis:
Once you have identified your organic competitors, you can use the following methods to find and understand their online strategies.
Use "Traffic Analytics" to see their overall month traffic and get user's behavior metrics.
Use "Organic Research" to see all their organic search ranking report. You can get top ranking keywords on Google search engine.
"Backlinks Analytics" to see the domains backlinks and their referring domains.
"Advertising Research" to see the PPC advertising techniques used by your competitors.
"Keyword Gap" – It helps you to compare the keyword positons across 5 competitors.
"Backlinks Gap" to compare all the referring domains across 5 competitors.
"Social Media Tracker" to track recent posts, growth, and engagements.
Final thoughts:
If you want to grow your online business or blog, then SEMrush is a must recommended SEO tool. SEMrush helps you to spy on your competitor's website and find their advertising strategies, top-performing keywords, backlinks source, and more in one place.
As a blogger or marketer, it is crucial to focus on your competitor's strategies. If you are not concentrating on your competitors now, you will regret it later.
Investing in SEMrush helps you to grow faster than ever. Give a try now!
SEMrush is perfect to increase your website traffic, finding profitable keywords that get converted, spy on your competitors, organic search rankings, and many more.
If you have any questions or thoughts, please comment below, and I would be glad to help.