If you wonder how to get your blog noticed and how to become more visible online in general, then here's a blog for you that provides advice about all kinds of SEO strategies and traffic.
In today's post I'm going to walk you through the step-by-step process of using SEMrush, an all-in-one SEO tool that will help get your blog ranks higher in search engine results pages. After reading this SEMrush tutorial, I know you're going to be on your way to learning how to increase traffic, with my favorite feature being their keyword tracker that shows you which of your posts are drawing more readers and what terms visitors are using when they type your domain into a search engine. Before we get started though, here are the features it boasts:
– How to grow your blog quickly.
– How to spy on your competitor's website.
– How to increase your organic search traffic.
– How to find "profitable keywords."
Read this article till the end.
" Read! You'd be surprised at what you find."
What you will learn in this SEMrush Tutorial:
– SEMrush free trial to Pro account.
– SEMrush features, pros, cons, and pricing options.
– How to find money generating keywords using the SEMrush Keyword Magic tool.
– Competitor analysis with SEMrush.
– Site audits using SEMrush.
– How to use all the SEMrush features.
If you're interested in SEO, make sure you create an account on SEMrush for free using this Exclusive link! Doing this will help you develop your knowledge of more specific aspects of SEO like backlink analysis, keyword research, and finding opportunities to rank higher based on search trends. Essentially, creating an account will give you a stronger understanding of SEO and the insight needed to either get your company started or improve upon existing strategies. I can guarantee this! Doing this will help you better understand and improve your SEO knowledge. I can guarantee this!
Let's start!
What is SEMrush?
SEMrush is a powerful suite of SEO tools that can help you find and discover any information you need to make informed decisions about how to promote your business. You can use SEMrush to spy on your competitors, monitor keyword rankings, find new link-building opportunities, and more.
You can use SEMrush depends on your specific goals. SEMrush can also help you with measuring, improving, and reporting.
What are the Key Features of SEMrush:
Here is the list of best features that you get with SEMrush.
– Finding profitable keywords.
– Track keyword positions.
– SEO audits to find and fix the technical SEO issues.
– Competitor research.
– Keyword Research
– Domain Comparison
– Backlinks research.
– And many more.
Pros and Cons of SEMrush:
Pros:
– SEMrush Keyword Research tool helps you to find the profitable keywords and top-performing keywords of your competitors.
– The site Audit feature – will help to find and fix the technical SEO errors.
– The competitor's analysis feature offers you to find the competitor's online strategies from top performing keywords to backlinks to paid strategies.
– You can compare your website with 5 competitors' websites, which helps you find where you are lacking and improve it.
– Advertising feature – to know the competitor's PPC campaign strategies.
– The backlink research tool is to find the competitor's backlink sources.
– Brand monitoring tool – to monitor your brand reputation online.
– SEMrush SEO writing assistant helps you to write SEO-friendly articles.
Cons:
– SEMrush pricing is a bit expensive, and it is not affordable for many bloggers. SEMrush price starts from $99.95/Month. But investing in this tool will be worth all these features.
– It has tons of features, so it takes some time to understand and use these features. (But no worries, here you will learn about all the essential features of SEMrush in his Tutorial.)
Try SEMrush Pro for free using this exclusive link!
How much does SEMrush cost?
SEMrush offers 3 levels of subscription: Pro, Guru, and Business.
– SEMrush Pro starts at $99.95/month.
– SEMrush Guru starts at 199.95/month.
– SEMrush Business starts at $399.95/month.
Which SEMrush plan suits you well?
| PRO | GURU | BUSINESS |
| --- | --- | --- |
| Analyze Competitors Strategy (keywords, ads, backlinks) Manage Social Campaigns Keyword Research Link Building On-Page & Technical Optimization Insights | All in Pro plus: Content Effectiveness Audit Topic Research Content Optimization on-the-go Brand Reputation Monitoring Compare performance across different devices & locations Detect and fix cannibalizing pages Historical Data Branded PDF Export | All in Guru plus: API Access White Label Reports Custom Dashboards with native GDS connectors PLA analytics Crawl Large Websites (up to 100k pages) Project Sharing with free users AMP pages audit Sharing Report Templates |
| Limits | Limits | Limits |
| 3 Projects 500 Keywords to track 100 000 Pages to crawl 10 000 Results per report 250 Keyword metrics updates per month 500 SEO Ideas Units 50 Social profiles for monitoring 10 Social profiles for posting 5 Scheduled PDF reports | 15 Projects 1500 Keywords to track 300 000 Pages to crawl 30 000 Results per report 1000 Keyword metrics updates per month 800 SEO Ideas Units 100 Social profiles for monitoring 30 Social profiles for posting 20 Scheduled PDF reports | 25 Projects 5000 Keywords to track 1000 000 Pages to crawl 50 000 Results per report 5000 Keyword metrics updates per month 2000 SEO Ideas Units 300 Social profiles for monitoring 50 Social profiles for posting 50 Scheduled PDF reports |
| Try SEMrush PRO for free | Try SEMrush Guru for Free | Click here to $800 on Business Plan |
SEMrush Tutorial: The ultimate guide to knowing all about SEMrush features
Site Audits: Find & Fix the website Errors
Are you struggling to get more traffic after creating a lot of useful content?
The problem is not only with the content; there could be errors on your website on-page related to technical or SEO.
So how can you fix those errors?
It's straightforward. Just do a Site audits.
SEMrush Site Audit tools help you analyze all the technical issues, and it shows where your website is exactly struggling so that you can fix the problems to boost your website performance.
SEMrush site audits check over 120 on-page and technical SEO issues like duplicate content, broken links, Https implementation, indexability, and many more.
How to set up a site audit on SEMrush?
To set up a site audit on SEMrush, you first have to create a 'New project' for your domain. Once you have done doing the project, it starts auditing your domain and shows the SEO-related issues.
There will be three types of factors:
Errors shown on the red is the most severe issues on your website
Warnings shown on the orange is a medium-level issue on your website
Notices shown on the blue is less severe than the Red and Orange.
You can find and fix all type issues on your website like,
Mixed content issues
Site crawlability issues
Page load issues
Broken links issues
Content related issues
Server issues
Website responsiveness issues
And the list goes on.
Once you start fixing all these issues, it will be easy to boost your SERP website rankings.
On-page SEO checker:
On-page SEO checker with SEMrush will help you to improve your content visibility on search engines.
It will help you with on-page SEO ideas and semantically related words to include your content, content length target, and backlink prospects.
The On-page SEO checker tool tells you what you can do to improve your website SEO and tell you why these ideas will benefit you.
Position Tracking: Track your keyword ranking positions
No matter how your on-page SEO, content, or backlinks. To rank on the Google search, first, you need to know whether your keywords are ranking on the first 100 Google results or not. Once you get to see your keyword ranking status, it will be straightforward to target the particular keywords and push it to the Google top 10 results.
You can easily track your ranking keyword ranking using SEMrush Position Tracking Tool.
SEMrush Position tracking will help you to track all your keyword positions in one set. This tool comes with many features like location, device type, estimated traffic, keywords improvements and decline, and many more.
You can also track keywords for a custom set of target keywords.
Keyword Research:
Keyword research is the fundamental of any SEO strategy. You have to know what your target audience is searching for. Whether you are writing an article or Paid campaigns.
Doing keyword research will help you generate more ideas for your content, and also it allows you to generate more traffic to your blog.
Yes, keyword research is the #1 way to generate organic traffic from the search engines.
For keyword research, you need to find the right SEO tool to understand what your audience is searching for. I recommend the SEMrush Keyword Magic Tool for keyword research.
How to use SEMrush Keyword Magic Tool?
Among all the keyword research tools, the SEMrush Keyword Magic tool is the best for Keyword research.
Keyword Magic tool generates a lot of keyword ideas for your blog content or websites.
Its very simple to use and find more profitable keywords using the SEMrush Keyword magic tool. Just put your keyword into the SEMrush search bar.
Instantly, SEMrush will take you to the keyword overview section, where you can find lots of keywords in the same niche or same topic.
You can use modifiers like Broad match, Phrase match, Exact Match, or Related to get more specific keywords from your seed keyword.
Another way to find more keyword ideas is by using the 'Questions' modifier. Question type of keywords gives you more content ideas and what kind of information the users need and searching for. Focusing on question type keywords will increase your blog value.
Common question types keyword mostly used by search engine users are "How to's." When you are focusing on these types of questions, try giving direct answers. So that your content could be chosen for SERP featured snippet.
How to find money-making keywords:
Now you know how to do the keyword research for valuable content and find it with SEMrush. Now let's talk about how to find money-making keywords with SEMrush.
Also Read: How to start a blog that makes money.
Using money-making keywords on your content, you can attract the users who are willing to buy something online.
Money making keywords are buyer keywords which include:
Buy
Sale
Deals
Offers
Discounts
Cheap
Purchase
And here is how to find the buyer keywords using SEMrush.
Enter your target keyword into the SEMrush search bar (Transactional keyword such as buy, sale + Target keyword such as used cars). So the keyword is 'Buy Used Cars".

While filtering the keywords, you have to do the filtration by CPC. Higher the CPC, the more profit you can generate by traffic.
So you got the idea now to find the money-making keywords. Instantly, you can try it with the SEMrush Pro for free.
SEMrush Link Building Tool:
Backlinks are the most essential factors in the Google ranking algorithm, so building backlinks to your website is a significant part of SEO.
SEMrush is one of the best link building tools globally, and it had a 16.7 trillion backlinks database in 2019.
SEMrush link building tool has excellent features, including:
Backlink Analytics
Backlink Audit
Link building tool
Bulk Backlink Analysis
Backlink Analytics:
SEMrush Backlink Analytics tool helps you to get the functional data from any websites, including the competitors. Using the Backlink Analytics tool, you can monitor your competitor's new links and lost links every two weeks.
It's effortless to gather your competitor's backlink data. Just pop your competitor's domain on the SEMrush search bar and click on the backlinks tab.

You can compare your website with 3 competitor's websites for new and lost backlink data. It shows the competitor's Authority score, Referring domains, Backlinks, Avg. Monthly Visits and Traffic keywords.
Finding new and lost backlinks of competitors is the best way to identify its link building techniques.
Backlinks Audit:
The Backlink Audit tool helps you to avoid Google penalties related to toxic backlinks. Toxic links that are pointing to your website will affect the search engine rankings.
If you find that you have backlinks from toxic websites, you can use the SEMrush audit tool to remove or disavow your website's poisonous links. Doing this will helps you to improve the search engine rankings and keep your backlinks clean.
Key Features of the Backlink Audit Tool:
Link Building Tool:
Backlinks are the most critical factor in SEO World. Building backlinks from high authority websites that are relevant to your niche will increases your website ranking faster.
Finding relevant backlinks from high authority websites is now easy. SEMrush offers you a tool called Link building Tool, which helps you to find high-quality backlinks from your niche. And also, SEMrush made it easy to research and track your link building opportunities from one place.
You can spy on your competitor's website for new link building strategies. You can also find the contact information, social info, link to the website to connect with others.
After analyzing the new building prospects with SEMrush, you can quickly identify the natural opportunities to build your website backlinks.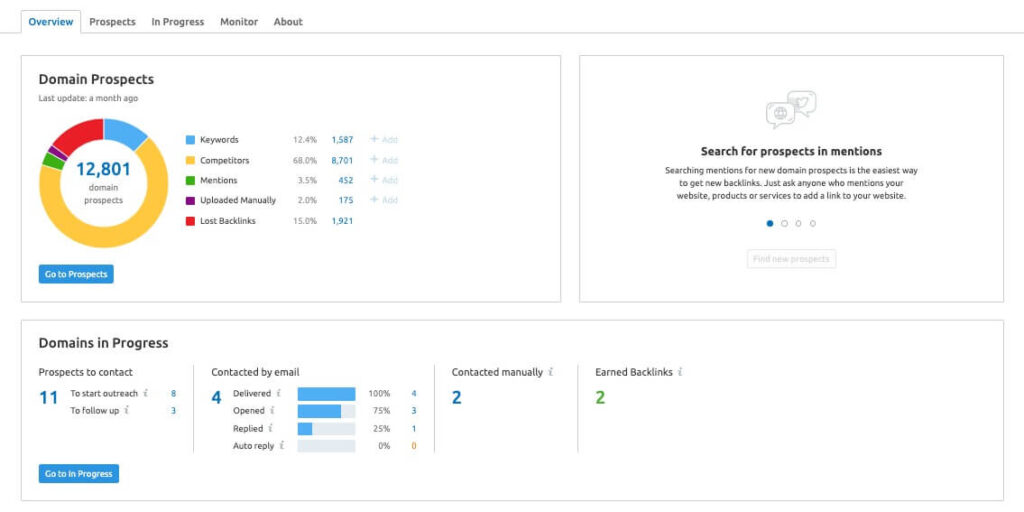 In the above overview report, the tool will show you the domain prospects and their progress. Here you can see the number of prospects, how many you have to reach out, and how many monitoring domains.
You can integrate this link building tool with the Google search console and Gmail account to increase the accuracy of SEMrush's suggestions.
Bulk Backlink Analysis:
Do you want to do research on multiple URLs or backlinks in one click? SEMrush Bulk Backlink analysis tool will help to do that for you.
In this Bulk backlink analysis tool, you can enter up to 200 URLs to analyze the backlinks data.
Comparing your domain with the competitor's domain will give you an idea for new link building opportunities.
In this report, you will get many details for each URL like,
Authority Score
Number of backlinks
Total number of Referring Domains
Do-follow & No-follow links
Referring IPs
Link types
And so on
Competitors Research:
Competitor analysis is the BEST way to make data-driven marketing decisions based on your competitor's strategies.
SEMrush Competitive research tool reveals the competitors marketing strategies from every angle like Organic research, Advertising, SEO, Content, and Social Media.
To do the competitor's research, start with Traffic Analytics, Domain overview, or Market explorer.
You can use the Traffic Analytics tool to know how much traffic your competitors are getting.
Here is how it looks;
Just pop your competitor's website on the box and click the compare button. Instantly the SEMrush traffic analytics tool will show you some essential metrics.
Visits
Unique Visitors
Pages/Visit
Average Visit duration
Bounce rate
It will also show you the competitors traffic sources, including;
Direct
Referral
Search
Social
Paid
You can also find out the countries generating the most traffic to your competitor's website using this Traffic analytics tool.
To know more about your competitor's strategies, you can perform organic research using SEMrush. It helps you to find out the competitor's top-performing keywords, top pages, and many more.
You can see many details about your competitor's website like top-performing keywords, top position changes, full pages, and their competitors.
As you can see here, SEMrush competitive research tool will give you more ideas to improve your business. You can easily use these opportunities to be ahead of your competitor.
If you want, try this SEMrush tool for free. Click this exclusive link.
If you have enjoyed reading this article, don't forget to comment below. Also, we update this guide every week, so don't miss the new updates from the SEMrush tool.
Feel free to leave your thoughts in the comment section.