Start your SEO with these tools
SEO is becoming very competitive on day by day. Every business is using SEO as their premium marketing technique to improve its visibility in the digital world.
There is a famous saying about SEO,
"The best place to hide a dead body is the second page of Google search."
If you are not on the first page of Google, then you are not in the game.
Note: 93% of online experience starts with a search engine.
Is that SEO being very complicated?
No, it is not a complicated technique. It is a simple technique that everyone can do it.
Read: The Ultimate Guide to SEO in 2020
If you provide the right information to the right audience and earn good trust from the audience, you can quickly head to the top page. As simple as that!
How can I choose the right audience and the right path to grow my business?
There are many ways to achieve the first page rank of the Google search engine. You can start doing with the keyword research, competitor research, and other techniques to make your business website better visibility on a search engine.
Still worried about the things!
If yes, here I will show you the simple way to get all the things done efficiently. In this digital era, everything is simple if you are using it in the right direction.
So, SEO is also made simple by some powerful tools. Here, I'm going to explain all the tools and their pro features.
Here we go!
1. Google Keyword Planner:
Keyword research is the most crucial step where you can start. If you want more traffic to your website, you need to do the keyword research to know what people are exactly looking for. There are many tools available on the internet to do the research.
Here, I'm showing you the best tool to do your keyword research is 'Google Keyword Planner.' Most liked the keyword research tool of every digital marketer. It is a free tool to see the search volume, competition, suggestion bid, and related keywords.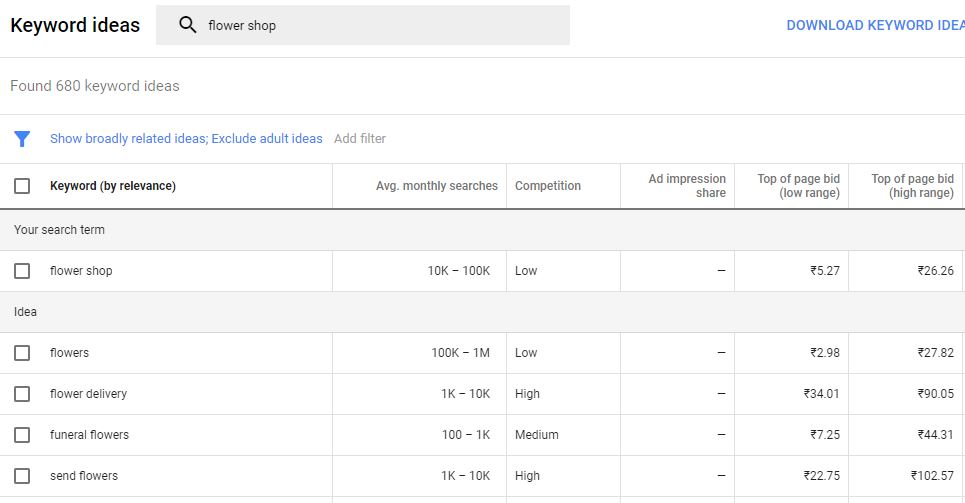 Now, Google Keyword Planner stopped showing the exact search volume of the keyword. Now just showing vague range. If you want to know the keyword's precise volume, you have to run the AdWords campaign, which costs money. But it suggests keyword ideas that you can't find anywhere else.
2. Ubersuggest:
Ubersuggest is a free keyword research tool. It is another powerful tool with many features. Neil Patel recently launched the 3.0 version of Ubersuggest.
Ubersuggest SEO tool helps you get the search volume of the keyword and generates keyword ideas for content marketing. It shows the overview of keyword or domain, top competitor pages, Keyword suggestions, Content ideas, and Backlink data.
Keyword Overview: Here, it showed the search volume, SEO, and paid difficulty of the keyword and CPC. Also, it gives the percent of chance to rank the top 20.
It also provides the keyword with ideas to generate content strategies.
SERP Analysis: Here, you can see the top-ranking pages of the keyword.
3. Ahrefs
Ahrefs is the most favorite tool of online marketing professionals, and it has so many features to track your keywords and backlinks.
The exciting part of the Ahrefs tool is Backlinks Checker. It gives the complete report of your website backlinks. It provides backlink information like do-follow, no-follow, reference sites, and the quality of the link.
It is a paid SEO tool, but you can get a trial pack of 7 or 14 days. It will be worth continuing with the Ahref tool.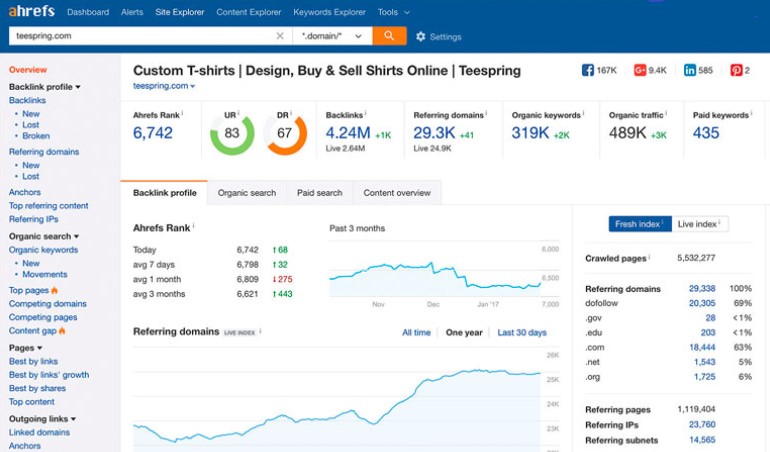 With free Ahref backlink checker, you can only be able to see the nos. of backlink.
4. SEMrush
SEMrush is the most important tool to check the complete website performance. So you can also check your competitor's site and get the complete traffic data of your competitor.
SEMrush shows the top organic keywords of your website and also gives the data of search engine ranking positions.
SEMrush has different optimization tools:
Also Read: SEMrush Tutorial: The Ultimate Guide For Bloggers and SEO's (with free access to tool)
Read: SEMrush Review 2020: How to Find Competitor's Organic Growth Strategies & Money-Making Keywords
5. Seositecheckup
SEOsitecheckup is the best SEO tool to audit your complete SEO performance. It shows the SEO score of your website.
SEOsitecheckup shows the audit list and displays the improvements and issues that need to repair to boost SEO performance.
It provides a variety of features, including:
6. Google Search Console
Google Search Console (aka Google Webmaster) is a powerful SEO tool and an utterly free SEO tool for Webmasters. It shows the website indexing status and helps optimize the website's visibility in the Search engine.
The exciting part of Google search console is Search queries. You can see the keywords that you are already ranking on Google. Search queries help you in content optimization for your website.
Read: A Complete Guide to The New Google Search Console
7. Google PageSpeed Insight:
 Google page speed is another free tool by Google. When it comes to your website's loading speed, this tool helps you optimize the website speed.
Loading speed is the critical factor when it comes to generating conversion or optimized website. If your site is not loading speed, the bounce rate of the site will go up. It affects the ranking and conversion rate.
Google page speed Insight will help you to do it in a better way. It shows both the desktop and mobile devices.
It will also show how to reduce the speed of your website. It's entirely free for use.
8. Google Analytics:
Google Analytics is the best tool to find traffic, conversion, bounce rate, data tracking, etc. It provides hundreds of different metrics.
Google Analytics gives you complete traffic information like site search, Behavior flow, Goal reports, Social acquisition reporting, Mobile traffic report, top-converting pages, Landing page traffic report, etc.
If you use its features a hundred percent, it will be the best tool to optimize and check your websites' traffic data.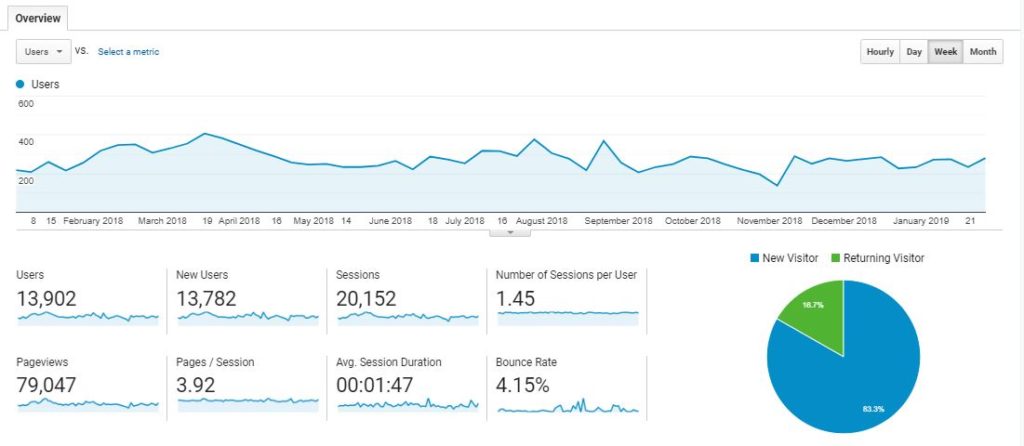 Conclusion:
SEO is a must need marketing technique for all the businesses. If you see the past report from Google, 93% of online experience starts with a search engine.
These tools can help you to optimize the website and improve your search engine rankings.
Comment below if you have experience with these tools. Also, add your favorite SEO tool in the comment section.