Start your SEO with these tools
SEO is a process that takes time and patience. It is not a one-day-job and your work should never be done. To make your life easier, we have gathered a list of 8 essential SEO tools that you should be using in your day-to-day SEO work.
There is a famous saying about SEO,
"The best place to hide a dead body is the second page of Google search."
If you are not on the first page of Google, then you are not in the game.
Note: 93% of online experience starts with a search engine.
Is that SEO being very complicated?
No, SEO isn't at all complicated. But it's different from other marketing methods. Its application needs more attention, more time, and patience. When you use SEO for your business, you want it to be strategic as possible. If you are one who doesn't like planning and structuring, SEO is not for you. But if you like that, then it's time to get started.
SEO is a long-term strategy so you need to be patient. If you have a single-minded focus on SEO, then you will get good results.
Read: The Ultimate Guide to SEO in 2023
If you provide the right information to the right audience and earn good trust from the audience, you can quickly head to the top page. As simple as that!
How can I choose the right audience and the right path to grow my business?
Choosing the right keywords to get your business the number one spot on Google search is tricky. But it can be made easier as long as you know how to do it! While doesn't guarantee that you will reach page 1 in Google, studying competitors and doing thorough keyword research are two actions that will help guide you towards getting there.
Still worried about the things!
If yes, here I will show you the simple way to get all the things done efficiently. In this digital era, everything is simple if you are using it in the right direction.
So, SEO is also made simple by some powerful tools. Here, I'm going to explain all the tools and their pro features.
Here we go!
1. Google Keyword Planner:
Researching keywords is crucial to improving your website's search engine performance. Keywords are the phrases people type into search engines like Google to look for various products and services, including yours. Never guess what your audience will search for or which keywords they'll use. Remember: you need real data from real people!
There are many tools available on the internet to do keyword research, but I have found that 'Google Keyword Planner' is the most effective.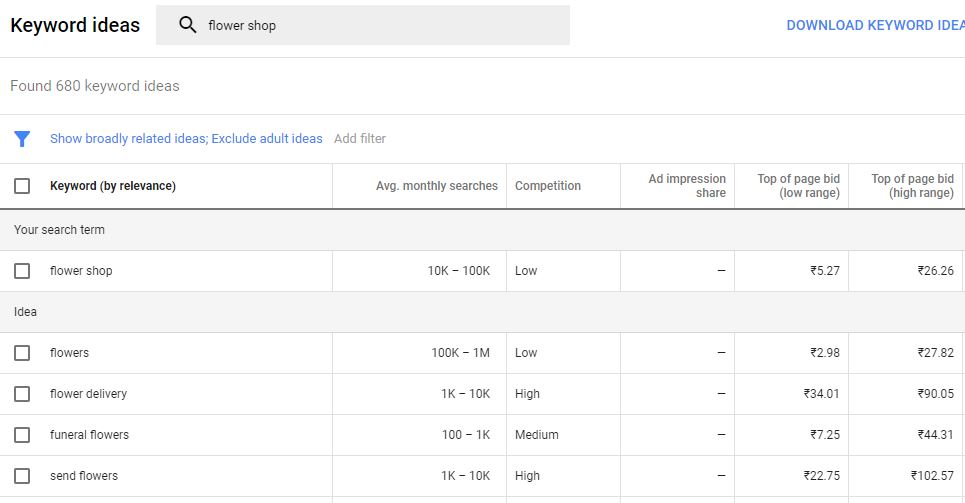 Now, Google Keyword Planner shows keyword volume range, not an actual number. So you'd have to run the AdWords campaign, which costs money, to know how many searches your competitors are getting for that keyword. But when you use the AdWords Keyword Planner Tool, it suggests keyword ideas based on your research that you can't find anywhere else!
2. Ubersuggest:
Ubersuggest is a free keyword research tool. It is another powerful tool with many features. Neil Patel recently launched the 3.0 version of Ubersuggest.
Ubersuggest SEO tools help you get the search volume of the keyword and generate keyword ideas for content marketing. It shows the overview of keyword or domain, top competitor pages, Keyword suggestions, Content ideas, and Backlink data.
Keyword Overview: Here, it showed the search volume, SEO, and paid difficulty of the keyword and CPC. Also, it gives the percent of chance to rank the top 20.
It also provides the keyword with ideas to generate content strategies.
SERP Analysis: Here, you can see the top-ranking pages of the keyword.
3. Ahrefs
Ahrefs is the most popular and trusted tool used by online marketing professionals. It's a wide-spectrum keyword research tool that allows you to delve into your niche and discover relevant longtails for your targets without breaking much of a sweat.
The exciting part of the Ahrefs tool is Backlinks Checker. It gives the complete report of your website backlinks. It provides backlink information like do-follow, no-follow, reference sites, and the quality of the link.
It is a paid SEO tool, but you can get a trial pack of 7 or 14 days. It will be worth continuing with the Ahref tool.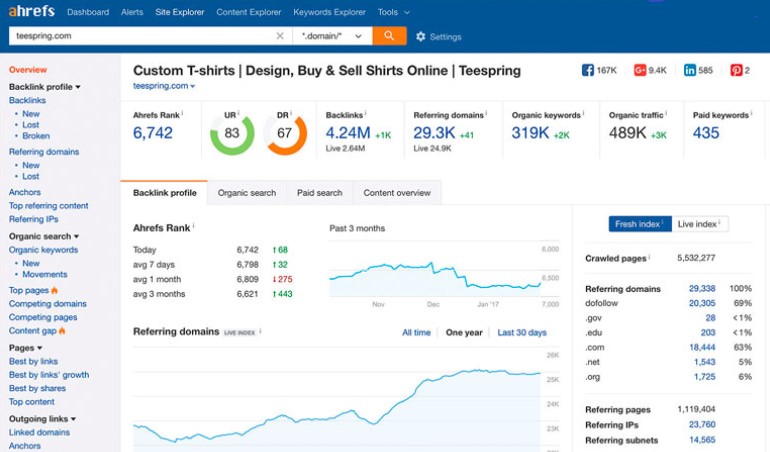 With free Ahref backlink checker, you can only be able to see the nos. of backlink.
4. SEMrush
Semrush is a powerful tool that lets you run a complete site-audit for your competition as well. Run an analysis of the competition and see what they do right, completely wrong, and maybe even get some great ideas on how to streamline and optimize your own website. When you are analyzing your competition, it's important to not focus too much on the shortcomings of their site because that can easily make you more complacent about the things you are doing wrong. Analyzing competitor sites allows you to take a look at what areas they are excelling in because there may be certain aspects of others' sites that could work out better for you if adopted on your own site.
SEMrush shows the top organic keywords that users search for and also provides data on what those keywords are ranking for on search engines.
SEMrush has different optimization tools:
Also Read: SEMrush Tutorial: The Ultimate Guide For Bloggers and SEO's (with free access to tool)
Read: SEMrush Review 2023: How to Find Competitor's Organic Growth Strategies & Money-Making Keywords
5. Seositecheckup
SEOsitecheckup is truly the tool that will ensure that your SEO efforts are going in the right direction! Its intuitive interface will help you to get a better understanding of how well your website is doing and you will know if it's time for any improvements.
A site's SEO performance needs to be boosted by repairing certain issues that pertain to the overall evaluation of its effectiveness as a search engine marketing tool.
It provides a variety of features, including:
6. Google Search Console
Google Search Console is a powerful SEO tool and an utterly free SEO tool for small businesses who receive their highest traffic from Google. It shows the website indexing status and helps optimize the website's visibility in the search engine.
The first and exciting part of Google Search Console is that you can see how your site is being viewed by users across the world. You can also get a more in depth look at which keywords are working for you when people search and which ones aren't.
Read: A Complete Guide to The New Google Search Console
7. Google PageSpeed Insight:
Google PageSpeed is another great tool which helps optimize your website's loading speed. Therefore you are able to see the number of requests that could be reduced per second.
The loading speed of a website is a critical factor when it comes to generating conversion or optimized website. If your site's loading speed is slow, the bounce rate of the site will go up – meaning people will leave the page without seeing another one. It affects your ranking and your conversion rate.
Google page speed Insight will help you to do it in a better way. It shows both the desktop and mobile devices.
It will also show how to reduce the speed of your website. It's entirely free for use.
8. Google Analytics:
Google Analytics is the best tool to find out where your traffic is coming from and whether or not your newest marketing efforts are generating results. It provides hundreds of different metrics which will help you determine where you should focus for more growth!
Google Analytics lets you view traffic data for your website in all different formats including conversion rates, top-converting pages, insights into your audience's behavior, and a lot more!
If you use its features a hundred percent, it will be the best tool to optimize and check your websites' traffic data.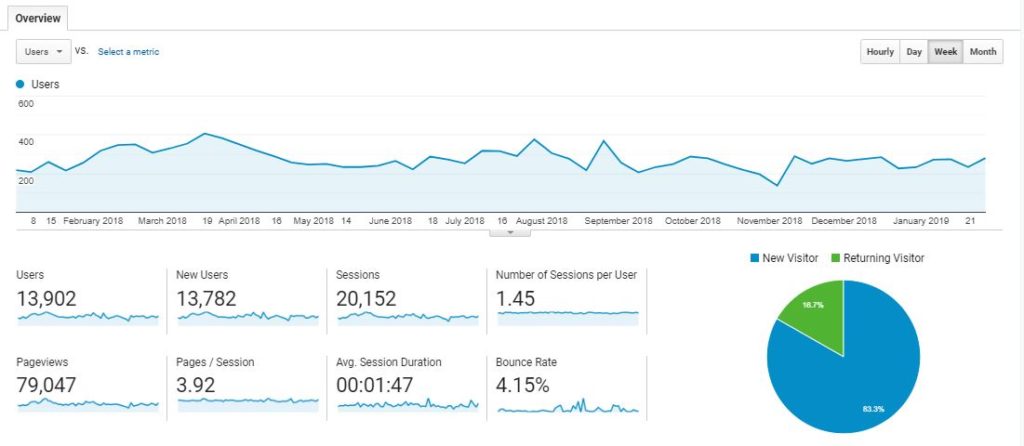 Conclusion:
We hope you enjoyed our article about some of the best SEO tools. With this knowledge, we know that you can kickstart your SEO project and rank organically in Google search results. So what are you waiting for? Start implementing today!
These tools can help you to optimize the website and improve your search engine rankings.
Comment below if you have experience with these tools. Also, add your favorite SEO tool in the comment section.