The SEO industry is changing at an alarming pace and the best SEO tactics are not what they used to be just a few years ago. To keep up with the changing industry, we need to look at the most advanced tools that the masses will use in five years. In this blog, we look at the advanced SEO tools used by SEO experts and how we can use them.
Mastering SEO can be hard. Using advanced SEO tools, it's easy. We have compiled them all advanced SEO tools on this list.
In this list of SEO tools, we have tried and tested all the tools by ourselves. These tools will help you to rank better in search engines.
Come, let's jump on to the list!
SEMrush:
SEMrush is one of the best SEO tools in the SEO community. Experts love this tool for their keyword research feature. Unlike other keyword research tools, SEMrush shows your competitors' top keywords and their top traffic pages. It gives you better SEO opportunities to rank your website easily.
Using SEMrush, you can easily find out the competitors' search data, traffic, and top-ranking keywords. So rather than doing manual competitors research, just put a competitor URL into the SEMrush tool, and you will see every single data and the keywords that they rank for.
Read: SEMrush Review: How to Find Competitor's Organic Growth Strategies & Money-Making Keywords
An organic research tool helps you to find out the most relevant keywords for your niche. You can explore organic competitors and find the most traffic-driving keywords.
Cool Feature: "Domain vs. Domain" analysis allows you to compare your website to your competitors. "Pages" show the competitors' most organic search traffic pages.
Ahrefs: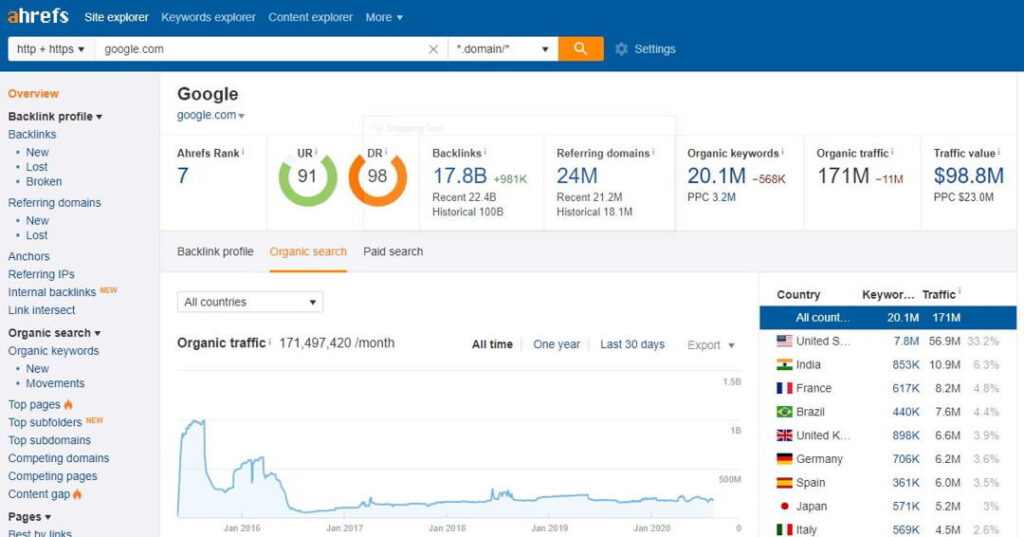 Ahrefs is one of the most recommended SEO tools online. Ahrefs is the best backlink analysis tool in the SEO expert's community.
SEO experts love their Site Audit feature and Backlink Analysis.
You can use Ahrefs all in one SEO tool. You can do the proper site audit on Ahrefs and optimize your site for better ranking.
It also helps you to analyze your competitors, what your customers are searching for, top-performing content ideas, and more.
You can use this SEO tool to find out the most linked content within your niche.
I love this tool because of its Backlink research feature. Compared to other link-building tools that I have tried, Ahrefs is very easy to use. Ahrefs also reveals the competitor's backlinks, and you can use them as a starting point for your brand.
Cool Feature: "Backlink analysis" shows you the backlink reports of your competitor's domain.
Try Ahrefs for a week and discover the growth opportunities you're missing.
Serpstat:
Serpstat is a growth hacking platform for SEO and content marketing goals. Many SEO experts are using this tool because of its keyword and competitor analysis features.
The most popular unique Feature of Serpstat is a missing keyword feature; this will show your competitors ranking for the keywords on the top 10 SERPs, and you are not.
If you are looking for an affordable all-in-one SEO tool for your website, Serpstat will be a great choice.
Cool Feature: "Search Queries" – This gives you the most people tend to ask the questions related to your topic.
Freemium models allow you to do keyword research, competitor analysis and get acquainted with Serpstat.
KWFinder:
KWFinder is an alternative to the Google keyword planner. Just put a keyword into it, and as the result, you will get data like search volume, est: bid, and keyword competition within seconds.
KWFinder also helps you to find long-tail keywords that have low competition.
SEO experts use this SEO tool to find the best keywords and new keyword ideas to help the website to rank higher.
KWFinder Competitor research tool helps you to find out what your competitors rank for. Just enter your competitor URL, and it will show the best keywords they rank for. Easy-Peasy J
Cool Feature: You can find out the long tail keyword to generate traffic and rank faster.
Start your 10-day free trial now!
SpyFu:
SpyFu is one of the most comprehensive SEO tools in the market. SpyFu has too of new SEO-focused features. You can research your competitors' sites to know that what are keywords they rank for, how many clicks they are getting, the ads they created on Google Adwords, traffic sources, and more.
3-way competitor keyword research tool will help you to see the profitable keywords that your competitors rank on, and you don't.
SpyFu will show you the number of times the keyword gets searched and its SEO keyword difficulty. You can quickly grow faster with their paid features.
Cool Feature: Keyword competition feature.
Google Search Console:
Google Search Console is a fantastic SEO tool straight from Google. Google Search Console helps you to know about your website's presence in Google SERP. You can see all the indexed pages and their performance.
All you have to do is verifying your website with the Google search console by adding DNS or meta code into your website.
GSC lets you know if any security issues, duplicate meta content, or indexing issues have occurred to your website.
The best feature of the Google search console is a performance feature. It will show you the list of keywords that you currently rank for, and also shows the ranking positions.
Cool Feature: Performance tab >> sort by position, and you can see all the list of keywords you currently rank for. It helps you to optimize your website for better rankings in search engines.
Read: A Complete Guide to The New Google Search Console 2023
LongTail Pro:
LongTail Pro is one of the best keyword research tools. This will helps you to uncover all the long-tail keywords in minutes. LongTailPro helps you to find low competition keywords that can get you more converting traffic.
Just put a keyword in the LongTail Pro search box. It will give tons of keyword suggestions from a niche. You can also get a keyword difficulty for the first-page ranking.
LongTail Pro shows you the keyword profitability with rank value.
You can spy on your competitors' websites and know about their converting keywords and their metrics.
Cool Feature: This shows you the long-tail keywords that can generate more converting traffic and also its keyword profitability with rank value.
Find long-tail keywords for free! Sign Up Now!
Raven Tools:
Raven is a fantastic SEO and reporting tools all-in-one platform for digital agencies, SEO freelancers, and in-house marketers. Raven tools have the best site auditor tool, and it shows you exactly what you need to fix on your website.
Raven tools have many features like Backlink tools, Rank tracking, Marketing reports, Competitor research, Link building manager, and keyword rank checker.
The Ravens reporting feature is super-duper and straightforward. You can easily create a report by drag-drop feature.
Cool Feature: "Website Audits" quickly analyze your website to find all the SEO issues that keep your site from ranking.
Raven Tools – Try It For Free!
Keywords Everywhere: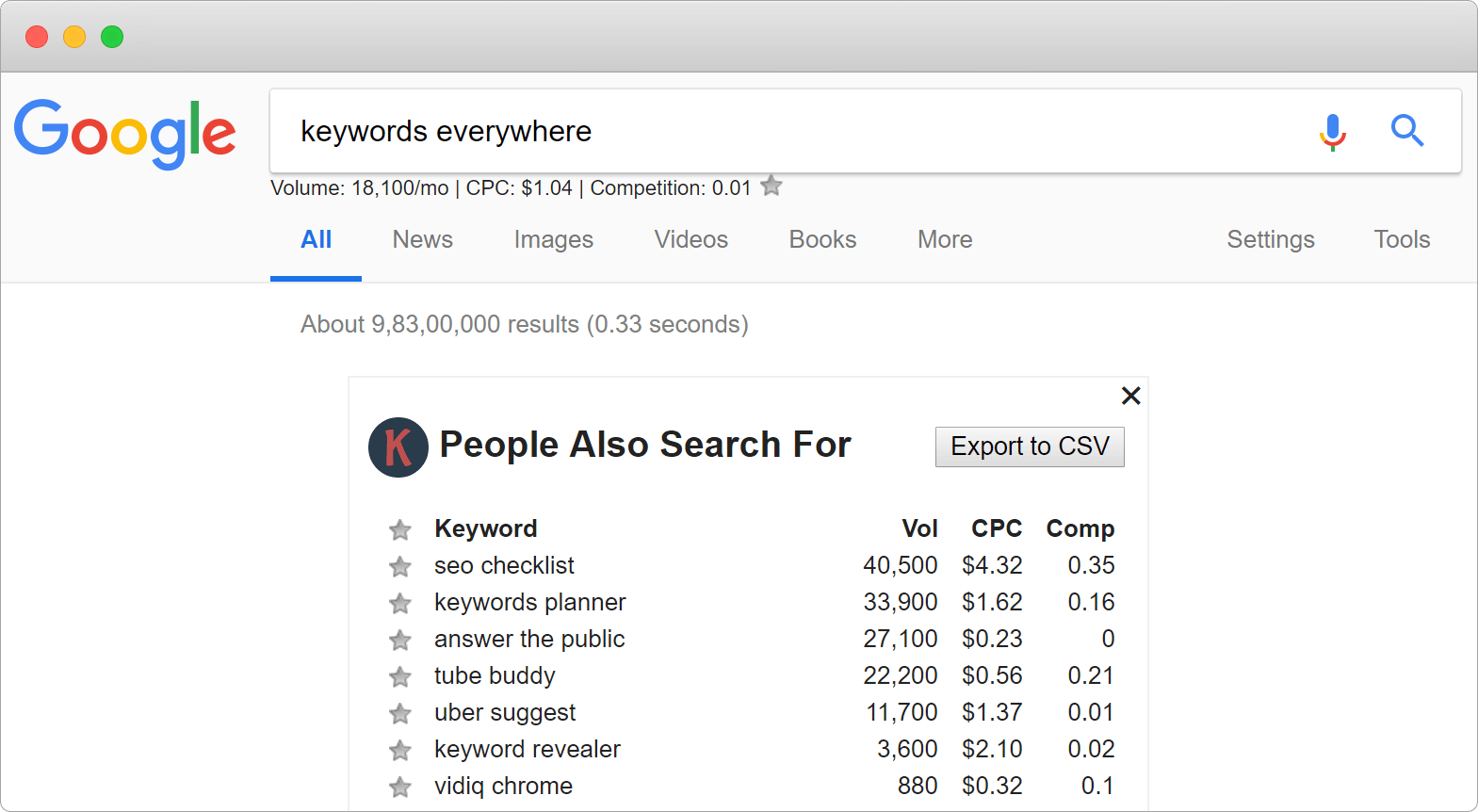 Keywords Everywhere is a great SEO extension on Chrome and Firefox. The best part of this Keyword extension is that it shows you the monthly search volume, CPC, keyword completion in the search engine ranking page itself.
Keywords Everywhere also give you hundreds of related long-tail keywords and its search volume.
Keywords everywhere also work better on the Youtube search engine. It helps you to find the best keywords on youtube.
Cool Feature: Search volume + CPC right under Google Search Bar.
Install extension for Chrome or Firefox
Screaming Frog:
Screaming Frog SEO spider tool is one of the best website crawlers that helps you to improve your Onpage SEO. This tool is great for quickly identifying technical SEO issues.
Screaming Frog has many features like finding broken links, errors, redirects, discover duplicate pages, Spelling and grammar checks, and more.
Siteliner:
Siteliner is an SEO scanner tool that helps to find duplicate content on your website. Siteliner systematically crawls your website for internal duplicate content and highlights it on each page.
The free siteliner is limited to a monthly analysis of up to 250 pages. The premium allows you to reports up to 25,000 pages.
Cool Feature: It's especially very helpful for identifying duplicate content on your website.
Conclusion:
We hope you've enjoyed reading about the advanced SEO tools. It's so exciting to think about how much SEO will continue to grow, even though it's already such an established industry that's been around for years. There's always room for innovation, and we can't wait to see what the future for SEO holds.
Let us know your favorite tool in the comment box!