Basically, the web is something that is used by millions of people across the globe. Google has undoubtedly created a culture where one can access anything and everything in seconds through the web. In today's era, if small or big companies want to be successful, one needs to have a website or blogs linked with social media platforms. And this all the more enables these businesses to draw cogent potential traffic for their products and make new clients.
There are many reputed companies available in different parts of the globe who provide these services to businesses. However, it is upon the business owners whether they wish to go for a brand name or cheaper package as it solely depends on their choice, and budget doesn't matter. Numerous factors require consideration while choosing the right hosting service provider for your enterprise website/blog.
Choosing the right web host isn't easy. You have to weigh up a lot of things. A few things to consider are uniqueness (the layout explicitly catered towards your website's needs?) and longevity (how long has the company been operating and how secure its reputation is?). It's important that shared Hosting will be compatible with the web platform of your site, so make sure that any issues will be handled quickly & efficiently! Also, hosting packages differ in price depending on performance and features you get, you should choose according to the amount of traffic your site receives, or it might go down very fast.
You can't just choose the cheapest or most expensive one. There are many things to consider before you make a decision to purchase Hosting. It is important to choose the right web hosting service for your website. To help you avoid any future frustrations, we've put together these tips designed to help you choose the right type of host for both you and your site regarding performance, support, and security.
Table of Contents
What is web hosting?
How to choose a web hosting service
What to look for when choosing a web hosting provider?
Recommended Web Hosting Services
Conclusion
What is web hosting?
Hosting is a service that allows you to make your website accessible online. Hosting can be done for free or cost, but in order to have your website accessible online, it needs to be hosted somewhere. Web hosting services typically offer different packages – all of which are similar in some way but may vary greatly depending on what you're looking for as an end-user.
There are different types of web hosting services such as shared, VPS (Virtual Private Server), dedicated, managed (by us!), clustered (like VPS + dedicated), and cloud (just like it sounds!).
How to choose a web hosting service?
When choosing a web hosting service, you need to make sure that your site loads quicker than the competition. The best way to ensure this is by using a server located in the same region as your target audience. By doing so, you'll be able to improve customers' experience of your brand and improve conversion rates. Customers may turn away if they're forced to wait too long when loading new pages on your site, especially if there's poor content planning or excessive ads along the way. Secondly, it has to be secure!
Ensure that any information you share with your host remains completely private and protected – after all, getting hacked isn't exactly good for business!!
What to look for when choosing a web hosting provider?
The first thing to consider is the loading speed of your website. You don't want your visitors waiting for your site to load. You can check your site's loading speed with the free online tool at https://developers.google.com/speed/pagespeed/insights/.
After you're done checking your site's loading speed, you can look into the support and downtime of your web hosting provider. You definitely don't want your site to go down unexpectedly. You'll also want to find a web hosting provider who has a lot of experience, especially with WordPress.
Also, it would be best if you made sure the web hosting provider you choose is secure. If your site gets hacked or you get attacked by a Distributed Denial of Service (DDoS) attack, don't just sit there and wait for your site to get fixed. You'll want to find a web hosting provider who is proactive about security. You'll also want to see if your hosting provider has multiple servers so that if there is an attack, your site can be moved to a different server.
Recommended Web Hosting Services
There are several factors to consider when choosing a web hosting service. For example, you need to select a web host with a scalable plan and handle traffic spikes. Also, for a business website, a dedicated server is the best option. There are several good web hosts out there that fit the bill.
I personally recommend Bluehost, Hostinger, Inmotion, DreamHost. They are among the most popular and reliable web hosting services.
Bluehost:
I've tried many hosting companies in the past (Hostgator, GoDaddy, iPage, etc.), but Bluehost has been the best overall hosting service I have used to date. Their server response times are fast, the site loading times are quick, the uptime is almost 100%, and their customer service is prompt and helpful. I've used their hosting service for years now and have been very happy with the results.
Bluehost has three packages available in shared Hosting.
Basic ($2.95 per month): This option is designed for beginners to host their first WordPress site quickly and reliably at an affordable price. However, you can only host one website on this plan.
Plus ($5.45 per month): For bloggers looking to make a name for themselves, the Plus option gets you the most bang for your buck, so to speak – unlimited sites hosted at an affordable price point with award-winning 24/7 support (you can even use our live chat!). It'll be tough to go back once you've tried it!
Pro ($13.95 per month): If you want more out of your hosting experience, like a custom domain, multiple IPs, and cron jobs – this is the right choice for you! You'll also get one free SSL certificate when using this product package.
Hostinger:
After reading tons of reviews, I finally decided to try Hostinger. I couldn't be happier with my decision to use them. Their customer support is speedy and helpful, their servers are incredibly fast, and they're super affordable. They provide everything you need to run a website, including staging environments for development, and they're straightforward to use.
Their plans are amazing and affordable, and they provide a ton of features that most other hosting companies would charge you more for. Highly recommend Hostinger to anyone looking for a solid host for your website.
Hostinger offers three pricing plans in shared Hosting, each designed with beginners, growing businesses, and small to medium-sized businesses in mind.
Single Shared Hosting ($1.39/mo): Ideal solution for beginners who are building a personal site or want to try out the world of web development.
Premium Shared Hosting ($2.59/mo): Perfect package for professionals and non-profit enterprises starting their website project.
Business Shared Hosting ($3.99/mo): Optimized for small businesses that still have budget constraints yet need an extensive catalog of competitive features in order to flourish online.
DreamHost:
DreamHost is a web hosting provider that offers a wide range of products, including VPS hosting, cloud hosting, dedicated servers, web hosting, domain name registration. It provides a simple and easy-to-use cPanel control panel that gives you easy access to manage your account.
DreamHost is optimized for WordPress, which makes it a perfect hosting for WordPress users. It provides super-fast Hosting with unlimited resources, free domains, and free migrations.
Their shared hosting plans begin at just $7.95 per month and are up for new businesses looking to get started online.
SiteGround: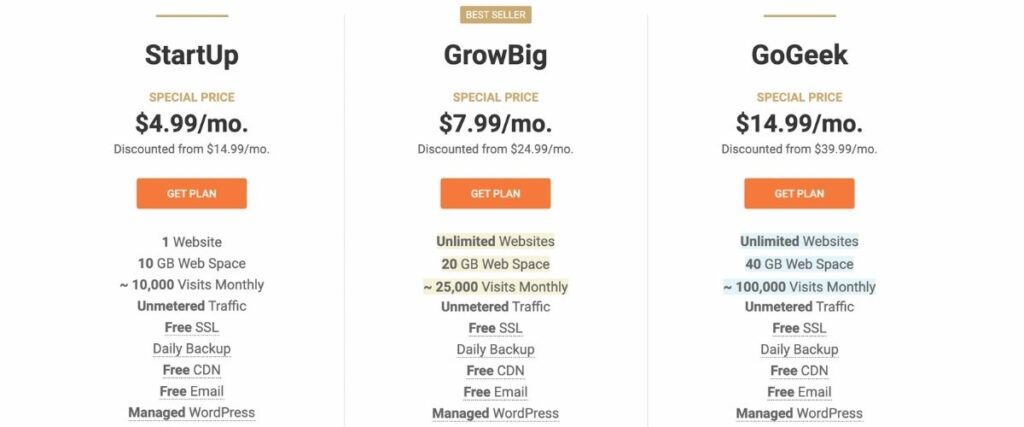 SiteGround is one of the most popular and trusted hosts among WordPress users. Since its inception in 2004, the company has managed to gain many loyal customers.
SiteGround is an excellent choice if you want to create a high-performance and secure website to display your business or product. It has a good reputation and is very popular among beginners and experienced bloggers.
With SiteGround, you can select any of their three plans to suit your needs.
StartUp: Starting at $4.99 a month to install one website with 10 GB storage, and suitable for up to 10,000 monthly visits.
GrowBig: $7.99 you can install unlimited websites with 20 GB storage and suitable for up to 25,000 visits per month
GoGeek: $14.99 GoGeek plan that allows three installations and grants 30 GB of space. They may opt-in for the Unlimited plan for those who need more than that, which grants unlimited websites with unlimited storage capacity.
A2 Hosting:
A2 Hosting offers the best in shared web hosting solutions. We are a respected web hosting provider since 2003. We offer rock-solid, dependable shared Hosting via our robust, redundant, and secure network. We have many different options for shared web hosting, starting at just $2.94 per month.
Our packages offer everything you need to build a successful website, including 24×7 support, 99.9% uptime, and even free domain.
A2 Hosting offers three pricing plans designed to meet the needs of different kinds of customers.
Lite ($2.94/mo)The Lite hosting plan allows you to set up a website and host it with A2 for $2.94 per month. You will also get five databases, unlimited storage, and transfer.
Swift ($9.31/mo): If you need to set up multiple sites with more storage, there is Swift hosting available at the cost of $4.90 per month, which includes unlimited websites and databases as well as unlimited storage and transfer; Swift also comes with a free domain registration/transfer for the first year!
Turbo ($9.31/mo): If hosting unlimited sites under one account becomes too much for your traffic load, consider moving up to Turbo ($9.31/mo) – which includes unlimited web hosting, databases, and features Turbo starter to blast your site speed by 20x more than other hosts could ever offer!
InMotion:
InMotion Hosting plans are very affordable and user-friendly. The most popular plans are their shared hosting plans. They give you the chance to choose between Windows and Linux.
You can choose from a variety of plans ranging from a basic plan to a high-end plan. You can choose between 2, 4, 8, or 16 processors and the amount of RAM. InMotion Hosting is one of the best hosting companies around because of their extremely user-friendly panel, their servers are ultra-fast, and they offer outstanding customer service. The company is one of the best at what they do.
InMotion Hosting offers reliable, fast, and affordable shared hosting plans starting from $6.99 per month so you can launch your website with confidence!
Conclusion:
We hope you've enjoyed this blog post on choosing the right hosting service. Choosing what hosting service you want to use is an important decision, and we hope our guide was helpful to you. Thank you for reading, and happy business!